How street furniture is influencing public spaces
Posted on June 22, 2022

Our towns and cities are constantly changing to cope with social, technological and environmental needs.
Post 2021 has seen an increase in the need for physical social connections and community spirit. In previous years, outdoor spaces in towns and cities were very unassuming and practicality was the main driver for any street furniture.
However in recent years, urban planners and designers have been creating inner city and town centre spaces to fulfil residents' needs to help socialise and connect with each other. Street furniture is much more creative and bold, and importantly there to inspire people to use.
Such modular designs aim to enhance urban architecture and offer a better quality of life for nearby people.
Latest trends in street furniture
Community gardens and outdoor gyms started a trend that is now seeing more and more aspects of city centre life moving outdoors. Such community gardens often include a variety of street furniture including benches and seating, litter bins, tree protection, picnic tables, planters and more.
These represent a shift in how urban spaces are used. Public spaces within towns and cities were often unevenly distributed where most of the space was used for buildings and construction, leaving little space left for outdoors activities.
Nowadays, green spaces and dedicated areas to socialise are actively planned and designed into urban areas to help positively impact people nearby who occupy the residential and commercial buildings.
A great example of this could be seen in the streets of London last year, where architects and designers created imaginative seating designs for the London Festival of Architecture. The competition showcased emerging creative talent, and showed how street furniture can benefit not only the urban environment but also how it can help communities support each other and come together.
Image credit: Dezeen
Lisa McDanell Studio's 'Plant Yourself Here' seating comprises two scooped seats that face onto each other. The chairs were made from cork and featured decorative graphics and surrounded by scented plants.
They were created in collaboration with Maher Model Makers to challenge traditional outward-facing public seating. The idea with this design was to encourage interaction.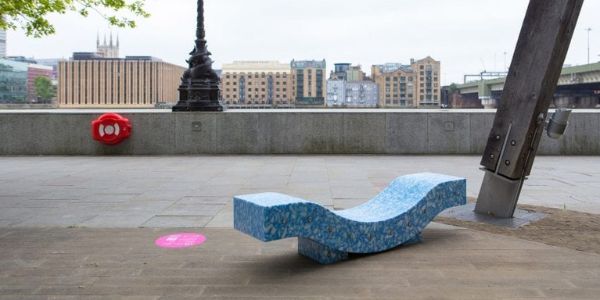 Image credit: Dezeen
The striking and bold 'It Takes Two' bench by 10F, invites users to sit at either end. This is a subtle nod to new attitudes and behaviours since the pandemic where users want to maintain physical distance with each other.
It is made from recycled blue plastic, informed by old public amenities in the capital such as decommissioned police boxes.
Both of the above street furniture also highlight another trend in street furniture – sustainability. They were made using sustainable or recycled materials, which aligns with current desires to reduce carbon emissions through reducing wastage or materials. This is inline with the UK government's plan to decarbonise all sectors of the economy to meet their net zero target by 2050.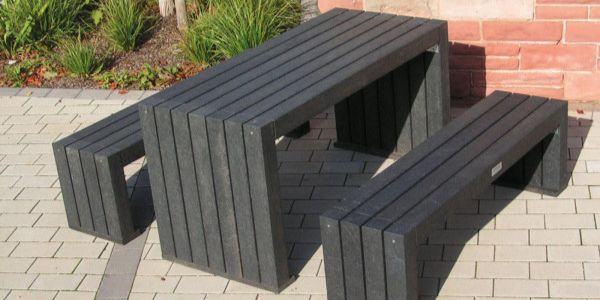 Our Calero Recycled Plastic Bench (pictured above) is made from recycled materials, and can be 100% recycled at end of life, making it an environmentally friendly option. It is available in different colours – brown, grey and black; and is a firm favourite among contractors and subcontractors working on street furniture projects.
Final thoughts
As working from home is becoming increasingly common, it emphasises the importance of creating inspiring urban spaces with accessible street furniture to bring people together and increase social connections.
This is twofold – for the workers who when they do go into the office in a town or city, are able to spend their lunch breaks in outside spaces. And secondly, many people still live in urban areas which is set to increase as cities across the UK are undergoing unprecedented waves of residential development.
Architects and urban planners are designing more and more social areas within town and cities. Contractors and subcontractors are increasingly installing a variety of street furniture in such outdoor spaces.
The ultimate goal for choosing street furniture within urban areas is to create a thriving outdoor space that encourages participation, and a more positive overall experience for everyone.
If you are working on a project that requires street furniture, talk to the team at Street Furniture Direct.
Our straightforward and down-to-earth approach helps contractors find the piece of street furniture quickly and easily, meaning you spend more time on carrying out the building work. Telephone us on 01625 879 442, email us at enquiries@streetfurnituredirect.co.uk or view our range of street furniture, bollards, cycle parking, shelters or lockers.