Steel Bollards
(12 products)
Street Furniture Direct offers the most competitive price when dealing with Steel Bollards, all our steel bollards are in stock and can be onsite in 48hrs. Steel Bollards offer excellent protection in most situations and are ideal for a host of environments. They can be filled with concrete onsite to offer anti-ram options and can be powder coated for a distinctive finish.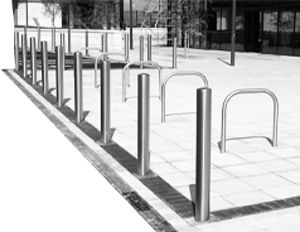 ---
Benefits of steel bollards
Steel Bollards provide a physical and visual barrier for security and safety that can withstand direct vehicle strikes.
They are ideal for outdoor environments such as protecting car parks and other parking facilities, commercial premises and their land, pedestrian walkways, and even provide ram-raid deterrence.
Improved safety
Steel bollards are useful in enhancing the security of pedestrians. They are popular in densely populated public areas such as university campuses, town or city centre areas, and other popular venues.
They are generally preferred to rather than long barriers or fences, as they can be carefully positioned to provide maximum security without too much of an eyesore.
Increased security
Steel bollards are one of the most effective materials to use for bollards in general and access control. Steel itself is a robust material and the high strength per unit weight means it can withstand huge loads upon it.
More functional than other material bollards
A steel bollard is fundamentally lighter than an equivalent concrete bollard, due to the higher strength and stiffness of steel.
With lightness comes a reduced load on the foundations too, therefore is kinder to the ground and in fact, smaller foundations are needed for equivalent-sized bollards.
Easier to transport
As mentioned above, because steel bollards are lighter than concrete bollards, they are easier to transport. This makes it easier to get them onsite and manoeuvre into position.
Increased reliability and long life
Steel is long-lasting as a material for bollards. And if you opt for galvanised steel bollards the hot-dip galvanising process adds another protective layer to the structure that prevents rusting and corrosion.
Popular steel bollards
Street Furniture Direct offer a wide range of steel bollards for sub-contractors. If you are buying or specifying steel bollards for an outdoor project our ranges consist of fold-down bollards, removable bollards, reinforced steel bollards, and telescopic bollards.
The Titan Fold-Down Steel Bollard is a perfect lightweight, durable bollard to protect a car parking space or commercial/residential driveway.

It is easy to operate with a simple integral lock and key. The bollard can be folded down to allow temporary access, then folded back up and locked for safety.
We offer the option to have it so the same key can operate all of your chosen bollards, or for increased security we can supply an individual lock and key for each bollard. Talk to our team to find out more details and choose the best option for your project.
One of the best bits about the Titan Fold Down Steel Bollard is the fact we always stock the item. It is one of our most popular steel bollards, and because of this if you need your order of bollards urgently, we can usually deliver to site within 48 hours.
The 139mm Diameter Titan Steel Bollard is another popular option in our range. It provides excellent security, simple aesthetics, and also comes available in a wide range of options meaning you can customise it to match your project's requirements.

Fixing-wise, you can have it as root fixed, surface mounted, or removable. The roof fixed option is the standard here and is available with quick dispatch, meaning if you can have them on-site within 48 hours of ordering. Surface-mounted or removable options carry a slightly longer lead time but speak to our team if you want to find out more on 01625 879 442.
Finish-wise, you can have a standard galvanised finish, any standard RAL colour (see chart below), or a non-standard RAL colour. The standard and non-standard RAL colours carry small additional charges.
Finally, if you want reflective options for your bollards, you can add a strip of either red, white or yellow reflective banding around the top of the bollard. This is a small extra charge per bollard and gives your client extra safety during dark conditions.
The 90mm Diameter Steel Telescopic Bollard is a popular bollard in our range as it is easy to use once installed. It's as easy as locking and unlocking with a key and pulling up or lowering down the bollard unit back into the casing.

These bollards are great for car parks where access is needed to restricted areas or even domestic driveways.
Installation is easy, where you have to dig a hole to a depth of 7700mm (for the 90mm Diameter option, other diameters may vary. But speak to our team who will be able to help – 01625 879 442).
Fill the first 100mm with Type 1 MOT Crushed Concrete, which you can pick up either in bulk bags or loose (usually priced per tonne). On top of that fill the rest with concrete and then install the steel section up to the lip so it sits flush with the surface level. Then leave to set.
The Steel Telescopic Bollards are available in three finishes – galvanised (as standard), standard RAL colour and non-standard RAL colour.
The bollards can be keyed alike or different, so you or your customer has control over who has access. If you order your set of bollards as keyed alike they will all have the same lock which can be operated with a single key. If you order keyed different you will be provided with a range of keys.
So for example, if you are working on a car park for a set of apartments that has allocated parking, it's a good idea to order keyed different so each apartment owner has their own individual key.
Safety bollards for public protection
Whatever type of project you are working on, here at Street Furniture Direct we have the right steel bollard for your project's requirements.
Whether you are looking for a fold down, removable, fixed, or telescopic bollard; in a variety of finishes (galvanised, standard RAL or non-standard RAL colour); different colours of reflective banding; and different keyed options (alike or different); we have the bollard for you.
Feel free to browse the collection of steel bollards at the top of the page. Or if you would like some assistance contact our team on telephone 01625 879 442 or email us at enquiries@streetfurnituredirect.co.uk and we will be happy to help you find your perfect bollard.

Good Product
Good product, good service, delivery on time and tracking/communication...

Excellent customer service
Excellent customer service, great communication, quick shipping...

Long Standing Quality Supplier!
Never had any issues with the service provided and prices are on point...

Great company
Been dealing with these guys for years , knowledgeable, great prices and great communication...

Been dealing with James and his team…
Been dealing with James and his team for years, highly recommend them...

Great Products and quick delivery
Great Products and quick delivery...