Product Description
Our most popular cycle stand. This cycle stand surface mounted offers a cost effective option for securing your bicycle. We are able to provide matching bollards and benches to create a family of products in one area. The Sheffield Cycle Stand can be powder coated in any RAL colour.
Little to no maintenance
Multiple locking points
Can secure 2 bikes
Cost Effective
Powder Coating Available
For a powder coated cycle stand the lead time will be 5-7 days.
Specifications
| | |
| --- | --- |
| Width | 758 mm |
| Height | 800 mm |
| Diameter | 48 mm |
| Weight | 10.00 kg |
| Fixing | Surface Mounted |
| Material | Steel |

---
---
Sheffield Cycle Stands are a firm favourite with contractors and subcontractors due to their durability, simple yet stylish aesthetics and ease of install. When you install a Sheffield Bike Rack on your project you can be assured your client will be getting bicycle storage that's cost-effective and will enhance any external environment.
Here at Street Furniture Direct, we take the headache out of searching for the right cycle stand or piece of street furniture. Our team is on hand to provide practical, down-to-earth advice and product selections. This frees up more of your time so you can concentrate on other important aspects of your business.
Why should you use Sheffield Bike Stand on your project?
The Sheffield Cycle Stand is a classic British design that is recommended by the national cycling associations. They are an effective solution for bicycle storage and can be found across the UK in public areas such as parks, universities and leisure facilities.
There are two popular fixing options for the Sheffield Bike Stand - surface mounted and root fixed.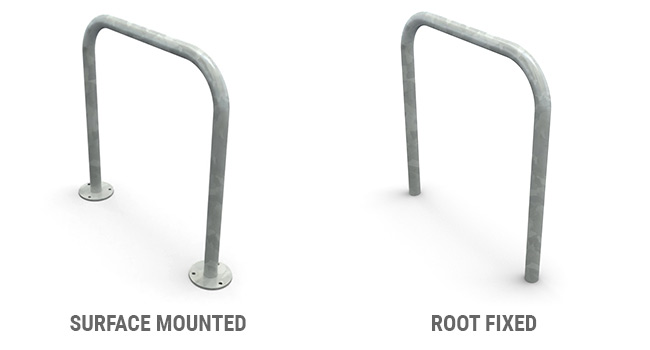 The surface mounted Sheffield Stand comes complete with base plate which offers a simple fixing mechanism to the surface substrate, and can be installed in no time at all. Root fixed cycle racks involve fixing the tubular structure into the ground with concrete. Here you need to consider the foundation depth and drying time in your installation.
Popular product: Sheffield Cycle Stand in Stainless Steel - Surface Mount
These bike rack units are a popular option among many contractors. They're available in both grades of stainless steel - 304 and 316 grades. This stainless steel cycle stand is available with bulk buy discounts.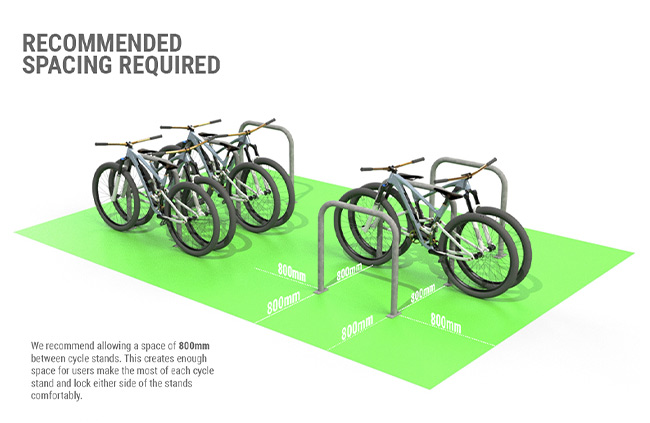 Technical specifications include a width of 715mm, height 800mm, diameter 48mm, and a weight of 4kg. If you require further product details or any documentation then you can find the product sheet, product specifications and product downloads on the page for your convenience.
And if you need it in a hurry, you can get the 304 stainless steel commercial bike rack within 3 days. The 316 grade option has a slightly longer lead time, but speak to our team if you need anything.
The galvanised steel cycle Sheffield Stand is also available as well as the stainless steel option above. The galvanised steel tube fixture is available with bulk buy discounts. It's available in three finishes - galvanised only; a standard colour (see the colour chart here); or a non standard colour.
For your convenience, you can buy each mild steel tube rack complete with the necessary fixings, meaning you have everything you need for your installation.
Advantages of the Sheffield Cycle Stand
They are a simple, functional and popular bicycle frame. They can be found in towns and cities across the UK, and offer a cost-effective solution for bike parking.
The outdoor bike racks offer practical short and long-term bike parking for users, and their robust design and structure can even prevent damage to bikes.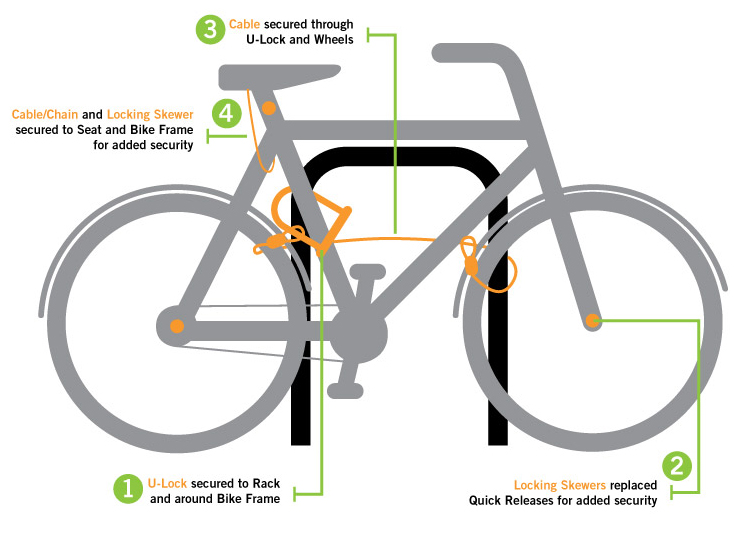 The popular bike stands offer businesses and local councils a secure bike storage solution for pedestrians. The shape allows the bike frame and rear wheel to be securely locked onto the bike stand on both sides giving security for 2 bikes. When standing a bike against a Sheffield Cycle Stand, users can easily use a D-lock or chain to secure the frame and wheels, deterring any potential bike thieves.
The Sheffield Bike Rack is part of a wide range of cycle parking options available from Street Furniture Direct. We also offer double-decker bike racks. Double-decker cycle stands are a space-saving alternative for outdoor areas with limited space. Because they feature two tiers of parking spots, they can hold twice as many bikes as traditional stands.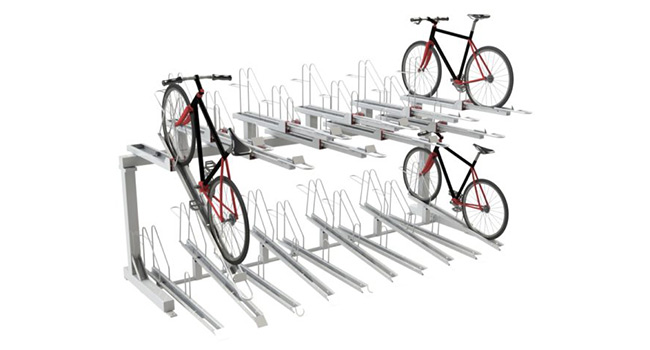 The Everest Double Decker Cycle Rack is a popular choice among contractors and urban designers. Its clean, modular aesthetics are matched by its utility, which allows bikes to be easily secured into each cell.
You can simply order online here, all you need to do is configure how many bikes you want your stand to hold.
Why buy your Sheffield Cycle Stand from Street Furniture Direct?
You can buy high quality Sheffield Stands from us here at Street Furniture Direct. We also offer competitive pricing, good stock availability as well as a wide product range of bike stands.
If you are looking for a galvanized bike rack or stainless steel cycle stand for your project talk to our team today on 01625 879442. They will guide you through product selections including any powder coating options and feet options (fixing options). You also have access to product sheets, product specifications and product downloads for your convenience.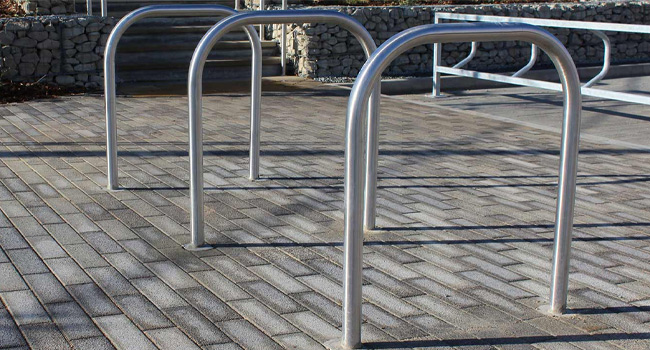 We are problem solvers here at Street Furniture Direct, not just product suppliers. Our team is dedicated to making your life easier, whether you are a contractor, subcontractor, or another construction discipline. We are here to add value to your project and take the pressure away from you.
James Wain, Sales Director at Street Furniture Direct, comments,
"We aren't just an online store or source of street furniture for contractors and subcontractors to buy from. Our team here offers reliable, competent advice to anyone who is looking for reassurance for their outdoor location project.
Whether you're looking for specific technical information or industry regulations, we can help.
What separates us from other street furniture suppliers is we are an extension to our customer's businesses. We save them time and money with reliable, efficient advice and product recommendations."
Our goal at Street Furniture Direct is to inspire people in outdoor spaces across towns and cities with innovative, robust, cost-effective street furniture.
We've worked with contractors and sub-contractors of all sizes and disciplines across the UK, many councils and planners, and other well-known brands including Kier, Jewson, Rolls Royce, Travis Perkins and many more.
Our range of cycle storage and street furniture on offer has been carefully selected and designed to transform outdoor public spaces. If you are working on a project where you require street furniture talk to our team today on telephone 01625 879 442 or email enquiries@streetfurnituredirect.co.uk